About 3km away from Colico, a side road leads 2km to Piona Abbey (Abbazia di Piona), a Cistercian abbey that has a marvellous setting on a promontory stretching out into the lake. The Abbey was first used by the Cluniac monks in 1138. The Cistercian monks were given the abbey in 1938 by its former proprietor, the Rocca family. The monks live here in silence and meditation., enjoying incomparable views west over the lake to Gravedona and the snowcapped peaks behind it and to the north. They are self-supporting and sell goods that they produce in the monastery which include typical liquers such as St. Bernards Elixer, which are derived from old traditional recipes used for herbal infusions.
The interior parts of the Abbey open to the public include the church, cloister and Capitular Hall. The most striking features of the church are the decorated bronze doors; two marble lions you see as you enter; the irregular stonework and the lovely, 'primitive' frescoes lit up around the altar. The small quadrangular cloister with its loggia style arches is a place of silence and highly symbolic visual communication. The four sides are representative of the four cardinal points – self contempt, world contempt, love for others and love for God and these 'themes' are reflected in delightful frescoes on the walls of the 'galleries'. In the middle of the cloister, a spring and a tree represent the spring of delight and the tree of life in the earthly paradise.
The Cistercian monks of Piona, in compliance with the Benedictine rule "Ora et Labora" (Pray and Work) produce through the labor of their own hands what is needed for the community and for selling to visitors. Inside the shop you can find natural products like herbal remedies, cosmetic creams, honey, herbal teas and the famous liquor carefully distilled according to ancient recipes.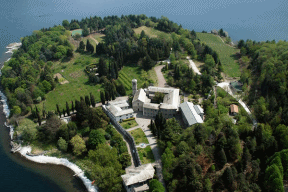 One more reason to be highlighted to schedule a visit to Piona is the panoramic view of the Lake from the Abbey, with sailing boats in the foreground and the villages of Dongo, Gravedona and Domaso in the background.
Piona Abbey is 37 kilometers from Lecco, a few kilometers from Colico, and can be reached by train till Colico station and then by bus to Olgiasca, with a further 20 minutes walk, or by a boat from Lecco or Como to Piona.
The Abbey and the shop are open every day from 9:00 am to 12:00 and from 2:30 to 17:00. Free entrance For booking group visits you can contact the Abbey http://www.abbaziadipiona.it/